Proposed Jamul casino has local residents EXTREMELY angry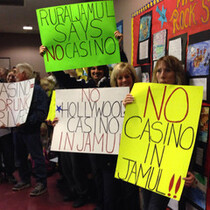 Posted February 6th, 2014 @ 5:26am
photo 10news
JAMUL, Calif. - Residents of Jamul are fighting back to put a stop to the construction of a controversial casino. They claim the Jamul Indian Village Casino construction is both illegal and will be located in a dangerous place.
Hundreds of Jamul residents gathered Wednesday night to talk about three lawsuits filed to prevent the project from moving forward.
Darla Kasmedo is a resident of Jamul. She tells 10News she is fighting to prevent the Vegas-sized casino from being built in her backyard.
"Where I live the proposed casino is like a stone's throw away from my home," said Kasmedo.
She says it will not only impact her family's rural lifestyle but the safety of the roadway in and out of Jamul.
"It's where they're trying to place this ... this huge casino, Vegas-style casino in a small town on four acres makes absolutely no sense. If you've driven this road especially at night, I mean, I hold my breath and say a little prayer every time I pull out onto that highway … it's just not feasible," said Kasmedo.
At issue is a $360 million, three-story, 200,000-square-foot gaming center that would be located along state Route 94. The casino is expected to attract at least 9,000 more vehicles to the already busy two-way highway.
Residents say road safety and public safety is at risk. The rural fire district spoke to residents about concerns regarding the additional traffic blocking access to homes.
San Diego County Supervisor Dianne Jacob is also opposed to construction of a casino in Jamul. She talked about the board's decision to sue Caltrans for illegally issuing a traffic management plan and encroachment permit to the Jamul Indian Tribe. The tribe has agreed to Caltrans requirements of widening the two-lane highway.
She also talked about questions raised about the land where the casino would be built on and whether it qualifies as gaming land.
"This is a very determined community and the battle will now be waged in the courts … three lawsuits: one at the federal level, two at the state level against Caltrans, and we have very, very good cases," said Jacob. "We will win this."