Race for mayor is closer than you think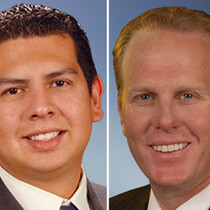 Posted February 10th, 2014 @ 5:38am
photo 10news
A last-minute surge for David Alvarez has propelled him to within one point of Kevin Faulconer for San Diego Mayor.
Results of the latest 10News/U-T San Diego pollhave Faulconer with 47% and Alvarez with 46%. Seven percent of likely San Diego voters are still undecided.
Can Alvarez pull it off? "He did in the general election," explained pollster Jay Leve. "You have to be struck by the resilience of Alvarez and his followers."
Compared to an identical 10News/U-T San Diego poll released two weeks ago, Faulconer is down two points, Alvarez is up two points.
According to the 10News/U-T San Diego poll, Latino voters now break 2:1 for Alvarez, whose support can no longer be characterized just as "young." Alvarez leads today, though modestly, among voters age 64 and younger. Faulconer's statistically insignificant 1-point advantage in the contest comes entirely from voters age 65+, among whom he leads by 17 points.
Women have broken sharply, late, for Alvarez. In three earlier polls, women divided evenly between the two candidates; now, newly, Alvarez leads by nine.
Upper-income voters have moved to Alvarez. One month ago, Faulconer led among the wealthiest San Diegans by 24 points. Today, Faulconer trails by two, a 26-point swing to Alvarez
Independent voters have begun to take a 2nd look at Alvarez. He had trailed among Independents by 23 points, now by 10.
Alvarez has closed the gap among moderates: at one point he had trailed by 21, now trails by five.
The contest is now even among those have started college and among those who have finished college. Both of these findings are improvements for Alvarez.
READ MORE | Detailed poll results
Is there any good news for Faulconer in the poll? He leads among men, just as he has in each of the 10News/U-T San Diego tracking polls.
"Faulconer wants to see longer lines of older white men waiting to vote. That's who will get him elected," explained Leve.
Faulconer also leads among voters who say they have already returned a ballot, arguably the most committed voters. For Alvarez to win, he must win outright the votes of those who cast a ballot on Election Day.
"Who wins among the ballots collected Tuesday will be mayor," Leve added.
Election day is February 11. Find your polling place.
10news