San Diego Students Walking Out Of Class During #Enough Event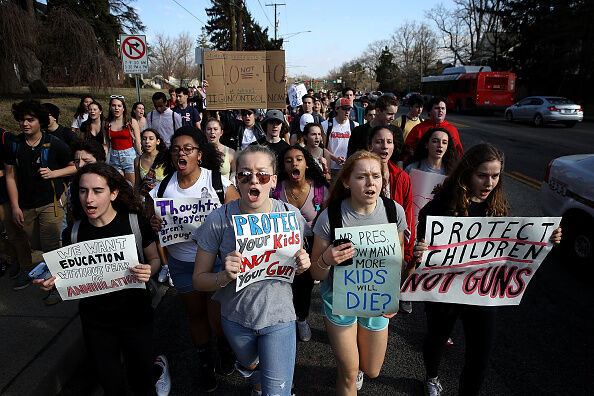 Thousands of San Diego County students in nearly three dozen schools are expected to walk out of classes Wednesday morning as part of a nationwide action to honor the 17 people killed in last month's school shooting in Florida and urge federal action to curb gun violence.

The more than 2,500 walkouts planned across the nation mark the one-month anniversary of the Feb. 14 shooting at Marjory Stoneman Douglas High School in Parkland, Florida. The demonstrations are expected to begin at 10a.m. and continue for 17 minutes -- one for every person who died in the shooting.

Some school districts, including San Diego Unified, have worked with students to support the events. The district has promoted the "positive" demonstration planned at Patrick Henry High School in San Carlos, which will include a moment of silence, speeches from student leaders and a reading of a poem penned by one of the Parkland shooting victims. Students plan to wear black today and put their thumb prints on a poster as a sign they'll take action to curb gun violence. They'll also sign a banner that will be sent to students at the Florida school. The students also plan to make available during lunchtime this week a list of mental health resources, list of elected officials' contact information and voter registration assistance. "All students have the choice to remain in class under supervision, go to the cafeteria where they may observe 17 minutes of silence, or participate," the district said in a statement.

Each school plans to offer a different take on the event. At Hoover High School in City Heights, students plan to read a list of the victims names. The Junior ROTC will also make an appearance. Parents of local students and other residents will show their support of the movement at an after school rally in San Elijo Town Square in San Marcos. There, local candidates are expected to speak and participants will call on the San Marcos School Board to pass a resolution against gun violence.

The San Diego County Sheriff's Department in a statement said that it is aware of the walkouts and supports the students' right to express themselves in a peaceful and respectful manner. Here's their statement:

On Wednesday, March 14th, students and faculty at schools across the nation are expected to walkout to mark one month since the deadly shooting at a high school in Parkland, Florida. The San Diego County Sheriff's Department is aware several schools in our jurisdictions will be participating in the #ENOUGH National School Walkout. We respect everyone's right to express themselves in a peaceful and respectful manner. We would ask that students and administrators communicate with their local law enforcement particularly if they will be leaving campus to ensure their safety navigating roadways and the well-being of drivers and pedestrians. For our students: please respect the instructions of school officials and if you hear any threats of violence or even potential violence, we encourage you to talk to one of our Sheriff's School Resource Deputies. The Sheriff's Department takes every threat seriously. In addition, students can call the anonymous Crime Stoppers Students Speaking Out tip line at (888) 580-8477. Students, parents and the public can also call the Sheriff's Department at (858) 565-5200.
Photo Credit: Getty Images