More Cottingley Fairy Photos Up for Sale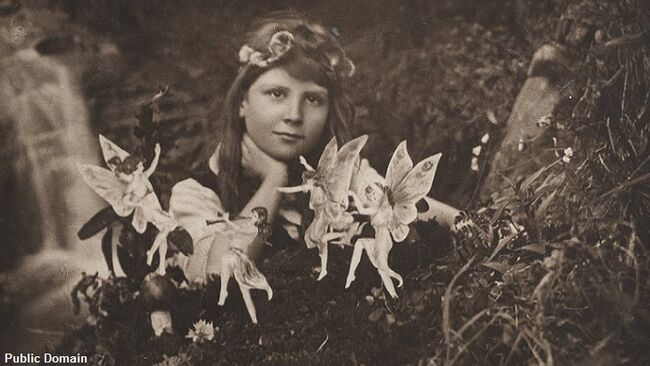 Following a wildly successful auction last autumn, a bevy of infamous 'Cottingley Fairy' hoax photographs will soon be available for purchase once again. The images, which purportedly showed a pair of young girls interacting with some diminutive elemental entities in their backyard spawned something of a media firestorm in the late 1910s as paranormal experts and the public at large debated their veracity. The case took on almost mythic proportions when the legendary creator of the character Sherlock Holmes, Sir Arthur Conan Doyle, examined the images and determined that they were genuine.
Although the two girls at the center of the story allowed the debate over the photos to continue for decades, they eventually revealed that the images were a hoax in 1983. Nonetheless, the Cottingley Fairy case has continued to capture the imagination of people to this day. This was particularly evident when a pair of the photos went up for auction this past October and fetched a whopping $20,000 total for the two images. At the time, the auctioneer overseeing the sale marveled that the final price for the images was "absolutely staggering."
With that in mind, the same auction house is preparing for what may turn out to be another monumental sale as several of original Cottingley Fairy images are set to go under the hammer later this month. Additionally, a camera given to the girls by Doyle and possibly used to take one of the later photographs is also being auctioned. The pieces were previously in the provenance of Christine Lynch, who is the daughter of one of the two perpetrators of the hoax. Regarding her decision to sell the materials, she mused to a British media outlet "it's time they went to a museum where someone else can see them and enjoy them."
More on this fascinating story at the Coast to Coast AM website.

Coast to Coast AM with George Noory
Want to know more about Coast to Coast AM? Get his official bio, social pages & articles on iHeartRadio!
Read more