Naming a Stadium for San Diego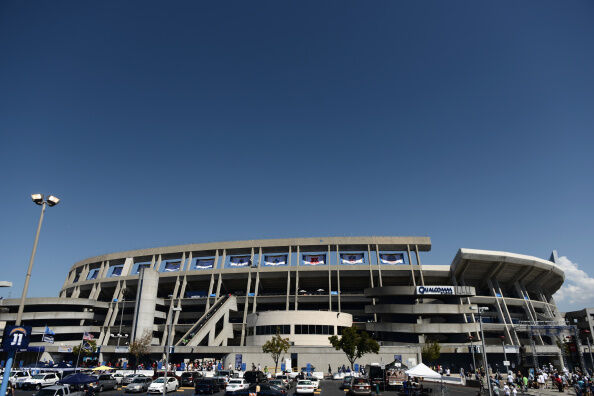 Today's the day, the deadline for submitting a bid for the naming rights to what has been called Qualcomm Stadium for 20 years.
So if you have a half million dollars or maybe somewhat more, because that's what it is estimated to cost, then you needed to get your bid in by today, September 1st.
Qualcomm paid a lot more than that back in 1997 for the 20-year naming rights. About 18 million dollars.
But with the future of the stadium itself uncertain and with the city right now only planning to keep it open till the end of next year, it's going to be a lot cheaper than that for whomever wins the bidding.
The city asked San Diego State to handle the bidding process since they have a contract with the city to play football there thru 2018.
As for some of the names that have been suggested for the stadium by those on social media and in the Union Tribune, they range from Aztec Warrior Stadium to Petco East to Waste Management Park.
No matter what it ends up being named for now, the bigger problem and the long term problem for the city is what will happen at the site when the former Q is finally shut down.
The Soccer City proposal goes before voters in November of 2018. And thanks to a recent state supreme court ruling about what it takes to get a citizens initiative passed for any tax increase to build something, there are rumblings and rumors about some other developer or group coming forward with a plan.
Whatever happens, and whatever it ends up being called till it's torn down, one thing's for sure. The former San Diego Jack Murphy The Murph Qualcomm The Q Stadium will always be remembered as the being the place where that team whose name will not be mentioned whose ownership turned their backs on San Diego for what they thought would be better days up in L-A. Ooops. Sorry about that.
(Photo credit Getty Images)