Getting Ready For San Diego's Heat Wave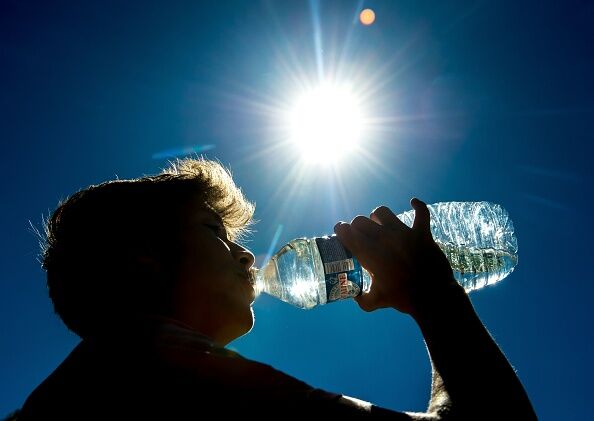 San Diego County will face extreme heat and high surf beginning today and lasting through Thursday, the National Weather Service said. Forecasters said a high pressure system moving over Southern California will bring in an extended period of hot weather, with the peak of the sweltering conditions to occur Tuesday and Wednesday.
It prompted the NWS to issue an Excessive Heat Warning for San Diego County, along with most of Southern California, between 10 a.m. Monday and 8 p.m. Thursday. High temperatures are expected to range anywhere from 96 to 98 degrees in Escondido and El Cajon today, and Vista was expected to see temperatures as high as 88.
Record temperatures Tuesday and Wednesday could be broken in San Diego, Chula Vista, Escondido, Ramona and Alpine, according to the NWS. Temperatures near the immediate coast are expected to reach the lows 80s, but not much higher. The desert northeastern corner of San Diego County will continue to see high temperatures, reaching a climax of 117 degrees on Tuesday.Lifeguards are gearing up for a busy week, with ocean temperatures expected to be in the upper 70's for the next couple of days.
The NWS issued a High Surf Advisory beginning today at 8 a.m. and lasting through 9 p.m. Wednesday. Strong rip currents could cause dangerous swimming conditions for inexperienced swimmers, the NWS said. Surf levels of 6-8 feet will be possible, forecasters said.
The heat also brings increased fire danger, and Cal Fire has some tips to stay safe here.
Because of the heat, the U.S. Forest Service today announced an emergency closure of the Three Sisters and Cedar Creek Falls areas. The closures are in effect until Thursday. "The road and trail system leading to both Three Sisters and Cedar Creek Falls are very challenging under normal conditions, but with extreme heat, the area becomes dangerous," according to a Forest Service statement. Authorities typically implement emergency closures when temperatures are expected to exceed 95 degrees. Additional closures are expected throughout the remainder of the summer. Heat stroke results in several fatalities per year in those areas, according to the Fire Service, and hundreds of people require medical aid or air rescue annually. The Three Sisters and Cedar Creek Falls areas will be reassessed on Friday.
A list of "cool zones" for residents to escape the heat can be found here.
Photo Credit: Getty Images