The life of longtime KOGO personality, George Chamberlin was defined by doing the right thing. During his life, George's positive outlook, integrity, and generosity touched so many people. By doing the right thing day-to-day, George created a legacy that is being honored through the George Chamberlin Leadership Award, presented by San Diego County Credit Union. It's not big bank banking. It's better.®

The award recognizes individuals and organizations that devote their time, talents and resources to helping others and making San Diego a better place to live. If you know a worthy person or organization that deserves to be recognized, please submit a nomination HERE >>

Kary's Helping Hand is a recipient of the George Chamberlin Community Leadership Award.
ABOUT THIS ORGANIZATION:
​Homelessness has risen to epidemic proportions in the United States. There are simply not enough beds to meet the current needs. And, even if there were, a certain number of these lost individuals will not go to shelters or accept help because they have drug addictions or suffer from mental illness.
In January of 2020, Kary Siegfried founded Kary's Helping Hand, because she saw an urgent problem on San Diego streets. There is huge gap between our state and federally-funded shelters and programs for the homeless. The basic needs of this vulnerable population living on our streets are simply not being meet. She could not idly stand by and watch them suffer, so she took action and with kindhearted neighbors, friends and local businesses to do everything in their power to help.
The goal is to help every individual make the brave choice to ask for help and leave the streets behind. Each month, they visit an area in San Diego where the homeless are known to congregate. Their team of volunteers offers home-cooked meals, something we would serve our own families, to approximately 150 individuals at our community outreach events. We also distribute gently used clothing, hygiene products, blankets, jackets, socks, and other needed items.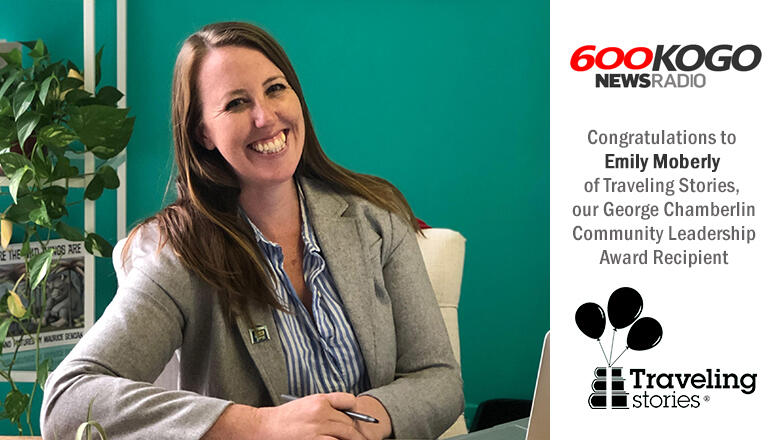 Traveling Stories is a recipient of the George Chamberlin Community Leadership Award.
ABOUT THIS ORGANIZATION:
Founded in 2010 by Emily Moberly, the mission of Traveling Stories is to empower children to achieve their dreams by providing access to one-on-one literacy support and mentorship. They have traditionally provided services through an in-person model called StoryTents at farmers markets at malls. Since 2010, we've impacted over 7,000 local children.
82% of children in low-income communities cannot read at grade level by the 4th grade. These children are up to 15x more likely to drop out of school, Traveling Stories is working to overcome this by helping children
When COVID-19 closed all of our in-person programs, we pivoted to an online program model called the Virtual StoryTent
The Virtual StoryTent matches students in 1st-3rd grade with trained reading mentors for weekly, one-on-one reading sessions via video
Mentors are volunteers who are trained to make reading fun and meet the student at their reading level
Students are introduced to new books every week and earn Book Bucks for participating. They can use their Bucks to buy prizes.
3 program goals: help students fall in love with reading, help students improve their reading levels, and help student increase their confidence
We don't want the cost to prohibit anyone from enrolling, so students may apply for a scholarship or pay what they can afford to enroll in the program. (Full price is $55 per student for 9-weeks)
If your student would benefit from one-on-one literacy support, ernroll for our next 9-week program. Learn more at www.travelingstories.org
Volunteers to be mentors! If you're interested, visit our website at www.travelingstories.org to learn more or apply.

Jess Baron is a recipient of the George Chamberlin Community Leadership Award.
ABOUT JESS:
Jess Baron is the founder of Guitars (and Ukes) in the Classroom, a San Diego-based non-profit organization that brings music into schools. Possessed by a vision to make music accessible to every child and adult, she founded Guitars in the Classroom in 2000, and has never looked back. Guitars in the Classroom (GITC) supports highly-engaged student learning in schools by training, equipping and inspiring teachers and school staff to sing, play folk instruments, lead, compose and integrate music with academic instruction and social-emotional learning for all. Our professional development courses and classroom teaching artist residencies restore music to its rightful place in childhood and society while supporting every teacher and student to approach learning more creatively through the joy of music and the power of song.
GITC offers free ongoing after-school courses for educators, specialists and school staff members, and classroom teaching artist residencies for highly engaged teachers. These infuse and boost student engagement and learning with the power of song! By training, equipping and empowering educators and specialists to become capable and confident musicians and song leaders for learning, GITC is reaching over a quarter of a million students with free integrated music in 39 states every year.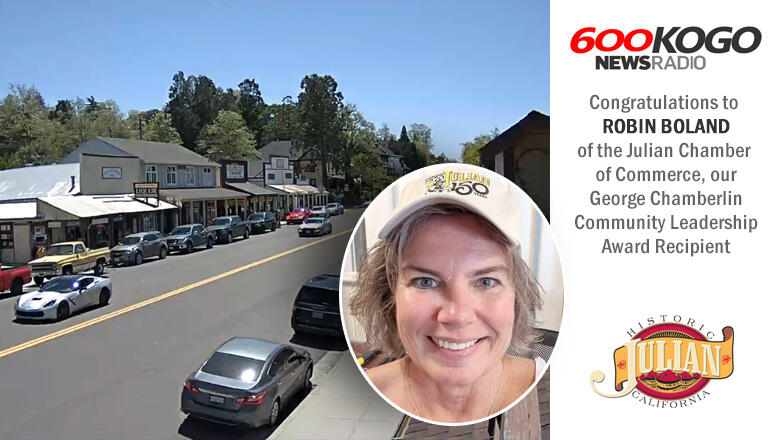 Robin Boland is a recipient of the George Chamberlin Community Leadership Award.
ABOUT ROBIN:
Robin Boland. Executive Director of the Julian Chamber of Commerce (a non-profit organization). Robin goes above and beyond for this little community. She serves the merchants with a passion that shows so much love for this historic town. Her efforts have increased the visibility of our town on social media, added webcams, and constant contact with media as well as our visitors. She is a true asset for anyone visiting San Diego County. She loves our town and it shows.
Julian is located in the beautiful Cuyamaca mountains. Take a step back in time to the days of Julian's beginning rooted in the 1870's gold rush. Get away from the hectic rush of city life… discover the charms of Julian. See where gold was discovered—shop stores housed in historic buildings dating back to the 1870's—sleep in a romantic B&B or historic hotel—sample Julian's famous apple pie —hike and picnic amid oaks and pines.
Fresh air and beautiful scenery abound in our area. Hiking trails, Parks and old-fashioned buildings. Enjoy a History Hunt through town, or simply enjoy a self-guided History Walk.
Julian also features a number of events throughout the year. There is always a reason and a season to visit Julian. We truly do enjoy all four seasons in our mountain town.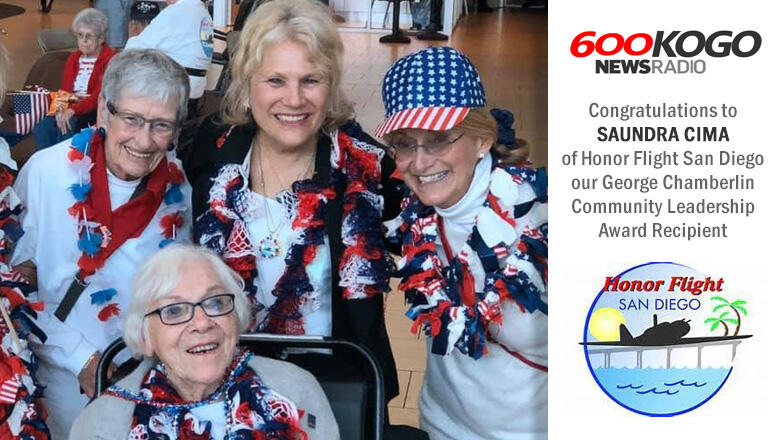 Saundra Cima is a recipient of the George Chamberlin Community Leadership Award.
ABOUT SANDRA:
Saundra Cima works with Honor Flight San Diego. The person who nominated Saundra wrote, "Working to give back to Veterans is a passion for Saundra.…she's dedicated to fundraising and escorting the Vets on their trips. She gives her heart and soul to the work of Honor Flight San Diego."
Honor Flight San Diego (HFSD) is a non-profit branch of the nationwide Honor Flight Network which consists of over 130 independent "hubs" across America. HFSD escorts veterans to Washington, D.C. to see their memorials using monies donated by individuals, foundations, associations, business owners and corporations who wish to recognize our veterans' contributions and thank them for their service and sacrifice to the United States and its citizens.
Top priority for our trips is given to the most senior veterans, currently World War II and Korea War survivors, and to veterans who are terminally ill.
Of all of the wars in recent memory, World War II truly threatened our very existence as a nation and as a culturally diverse and free society. With hundreds of World War II veterans passing away each day, the opportunity to express our sincere thanks to these brave men and women is running out.
Our Korea War veterans were called to serve just five short years after our WWII veterans in what is called "The Forgotten War." The time for honoring these men and women is growing short as well.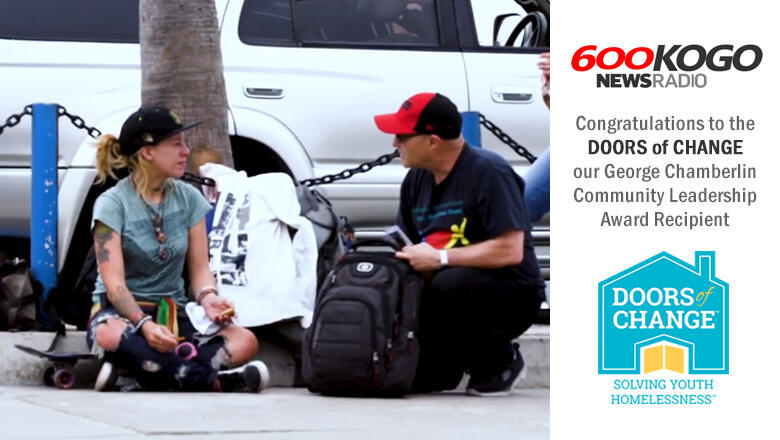 Doors of Change is a recipient of the George Chamberlin Community Leadership Award.
ABOUT THIS ORGANIZATION:
Since 2001, Doors of Change™ has been transforming the lives of homeless youth, one young person at a time. Originally called Photocharity, the 501(c)(3) has raised over $4.7 million. For more than 18 years we have helped place over 2,000 homeless youth in safe housing and off the streets.
In 2013 the agency identified a significant gap in the services and resources available to "transitional–age-youth" (those between the ages of 16 and 25) and decided to re-brand as Doors of Change™ and deliver a unique service to address this critical need. We work with youth ages 17-25 years old.
Recognizing that trust is often a significant barrier for youth in need of services, Doors of Change™ selected music and art as a non-threatening way to engage young people living on the streets. By offering music and art instruction in a small group setting, youth are given the opportunity to explore their feelings and challenges through the arts, achieve a sense of mastery for the first time, develop social skills that are positive and constructive, and create a vision for the future that is filled with possibility.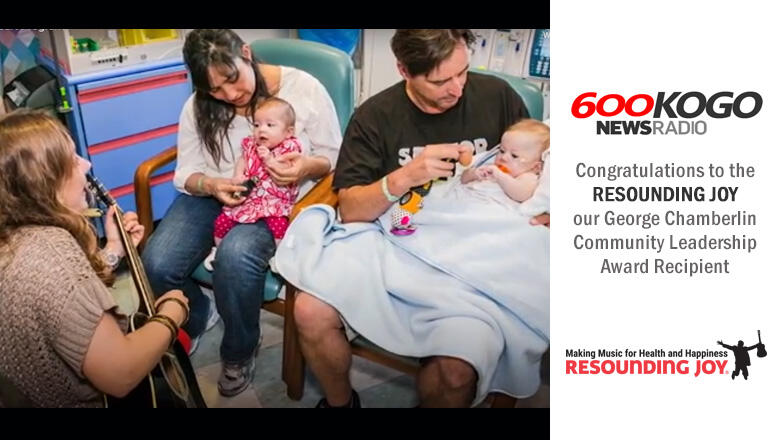 Resounding Joy is a recipient of the George Chamberlin Community Leadership Award.
ABOUT THIS ORGRANIZATION:
Resounding Joy enhances the human experience with therapeutic applications of music. We uplift individuals and families with challenging conditions, help them achieve their goals, and support health and wellness throughout the community.
Our music therapists are highly-trained professionals, who after graduating with an approved degree in music therapy, complete a 1,200-hour internship and a challenging national board certification test. Music therapists' education encompasses biology, psychology, and neurology, as well as training in voice, guitar, piano, percussion, and often other instruments to accommodate various evidence-based interventions.
We offer our powerful and cost-effective music therapy services through three main programs — Healing Notes, Semper Sound, and Community Connections. Every session begins with an assessment, and then the therapist works with the client to determine which goals to focus on throughout treatment.

Warrior Foundation Freedom Station is a recipient of the George Chamberlin Community Leadership Award.
ABOUT THIS ORGRANIZATION:
Warrior Foundation Freedom Station's mission is to be the leading force in assisting, honoring and supporting the military men and women who have so bravely served and sacrificed for our country. We are committed to providing our warriors with quality-of-life items, support services and transitional housing designed to assist them and their families during recovery.
Warrior Foundation Freedom Station assists four main groups of warriors:
The seriously injured returning home from war;
Those suffering from post-traumatic stress (PTS) and/or traumatic brain injury(TBI);
Those undergoing physical or occupational therapy;
Transitioning warriors who have been medically retired and remain in our community
To serve this last group in particular, we pioneered a new approach and opened Freedom Station-a unique transitional housing residence that provides injured warriors with the acclimation time, guidance and resources to success fully make the transition from military service to civilian life. Warrior Foundation Freedom Station is a nonprofit501(c)(3) organization proudly operated by a dedicated staff and volunteer corps.

Alpha Project of San Diego is a recipient of the George Chamberlin Community Leadership Award.
ABOUT THIS ORGANIZATION:
Alpha Project is a nonprofit human services organization that serves over 4,000 men, women, and children each day. Their services include affordable housing, residential substance abuse treatment, supportive housing for people with special needs, basic and emergency services for the homeless, transportation assistance, mental health counseling, employment training, preparation and placement, education, outreach and prevention, and community services.
The mission of the Alpha Project is to empower individuals, families, and communities by providing work, recovery and support services to people who are motivated to change their lives and achieve self-sufficiency.
Alpha Project strives not to manage homelessness, but rather to end it for its clients by offering jobs not handouts, respect not pity and empowerment not control. We provide the homeless with the tools they need to be the very best they can be.

The San Diego Food Bank is a recipient of the George Chamberlin Community Leadership Award.
ABOUT THIS ORGANIZATION:
The Jacobs & Cushman San Diego Food Bank and North County Food Bank chapter comprise the largest hunger-relief organization in San Diego County. Last year, the Food Bank distributed 28 million pounds of food, and the Food Bank serves on average 350,000 people per month in San Diego County.
Through their North County Food Bank chapter and by partnering with nearly 500 nonprofit partners with feeding programs, the Food Bank provides nutritious food to individuals and families in need through San Diego County.
Submit a nomination for the award below. Nominations will be reviewed by the staff at KOGO who worked closely with George during his tenure at the station