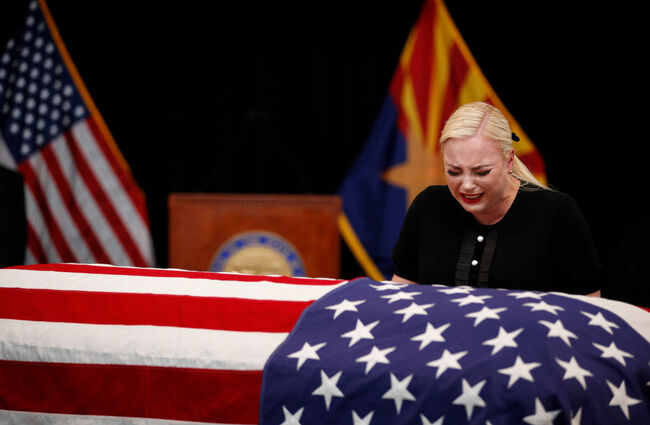 It's all fine and good that we have become so polarized, politically. Doesn't mean we need to be ugly. But some will.
Somebody's dad died, and some folks want to get ugly about it.
I know, it's de rigueur to make every damned thing about politics.
He's a RINO! He's a traitor to the party! She's a socialist!
You know what else "they," are? These folks we revile in great depth? They are people.
Deeply, beautifully, flawed, people.
I don't know if you've taken a good look around yourself recently, but we are lousy with them. People we love. People we hate. Some we are agnostic on.
The thing we like to do, here in the Wild West of social media, is dehumanize them.
Perhaps we can be a bit smug and superior when we do. Hell, I'm guilty of it too, so I'm not pretending to be holier that thou. I am holier than no one.
On occasion I like to climb up on my high horse and giddy up! It can be fun. But it can also be cruel.
John McCain was a good man. He was also a bad one. He was capable of great cruelty. And he was capable of being unerringly conscientious.
He made spectacularly bad decisions. He made enormous sacrifices.
He was a political animal with a bad freaking temper. (I speak from personal experience, here.)
He was also someone's beloved husband. He was someone's dad. He was loved and loved back. I see this picture of his daughter, and I know one day, it will be me.
And maybe, if I'm lucky, it'll be someone who loves me, one day, too.
So let's just take a breath, slide off the back-end of that horse and realize that it's coming for all of us.
As Jim Morrison so cogently noted in Five to One, no one here gets out alive. And we leave the bereft behind to pick up what pieces they can.
Photos: Getty Images

MORNING NEWS
Want to know more about MORNING NEWS? Get their official bio, social pages & articles on KOGO AM!
Read more